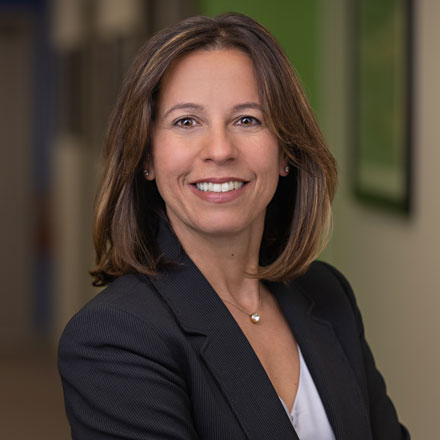 Brenda Laurenza is a co-founder and the President of Bald Hill Builders. Brenda started working in construction in her youth by assisting her father in the family business with such tasks as cutting tiles and grouting floors. In addition to helping at client sites, Brenda did much of the accounting and bookkeeping for the family business through her high school and college years. Upon graduating from college, Brenda worked as a teacher and a tour guide in Italy for several years, helping her reconnect to her family's roots. Upon her return to the United States, she reconnected to her construction roots by going to work for Shawmut Design and Construction for 3 years and then moving on to Suffolk Construction for an additional 3 years.
Since founding BHB with her husband, Matt Grosshandler, Brenda has been a driving force in providing the strategic direction of the company, identifying and acquiring new work opportunities, assisting the operations management team in creating operating procedures, and developing the philosophies that embody BHB's corporate culture.
Brenda's professional experience includes Project Development for various projects such as:
Alden & Harlow, Cambridge, MA, ($1.1M)
Bay State Road, Cambridge, MA, ($2.4M)
beStyled, Wellesley & Chestnut Hill, MA, ($600K)
Hairplace One
Kotsiopoulos Development, Roslindale, MA $4million, 24,000 sq.ft of mixed use building
Brenda has a Bachelor of Science in Education with a concentration in Italian from the University of Rhode Island. Brenda has extensive volunteer and community service work which includes: working with the Mom's Club of Sharon, MA to organize events for local families and collecting food to benefit the Ilse Marks Food Pantry in Stoughton, MA; volunteering for Cradles to Crayons, an organization that benefits homeless and low-income children; and donating her time to Rosie's Place in Boston, a sanctuary for poor and homeless women in need. She has also participated in volunteer efforts with El Porvenir, a non-profit organization in Nicaragua that improves the standard of living of rural citizens through water, sanitation, health education, and watershed management projects. During a 10-day visit, Brenda participated as part of a team that built 17 latrines in the Nicaraguan village of Camoapa.
Brenda currently resides in Sharon, Massachusetts with her husband Matt and their two children. Brenda is an avid soccer player, gardener and cook.